Lois Lowry
★★★★★
Reading level:
Ages 12 and up
Mass Market Paperback:
208 pages
Publisher:
Laurel Leaf (January 11, 2005)
The Silent Boy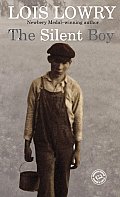 is told by Katy Thatcher, an old woman in 1987, about a critical period in her life from 1908 to 1911. Katy, whose father is a community doctor, dreams of becoming a doctor herself. Katy takes an interest in Jacob, a "touched" boy from a neighboring farm, who can't speak, but somehow humms quietly to himself, and seems able to communicate with animals. Jacob occasionally comes to the Thatcher home to be in the barn with the animals. Katy shares Jacob's love of animals and comes to feel she can communicate with him in a rudimentary but empathetic way.
When Nell, the sister of Jacob, has a baby out of wedlock by Paul Bishop, Jacob is aware of the trouble. He abducts and brings the baby to the Thatcher's house on a stormy night, hoping to save it the way he has saved orphaned lambs by bringing them to a substitute mother. But it does'nt go the way he had planned it to. Later, Katy marries Austin Bishop and becomes a doctor. 50 years later the Asylum closed and Jacob was never seen again. There were no records of him there.
I've read this book a few years ago, and after rearranging my bookshelf I found it hidden away, still is perfect condition.
Lois Lowry has touched us through many of her works, like The Giver and Number the Stars (which I'll be doing a review for), but rarely have I heard, or frankly ever heard of, The Silent Boy. And, truthfully, it's one of my favorites!
The story is told through Katie's POV as an old woman looking through a photo album and recalling her memories. I particularly loved Jacob. He was strange and curious. Today, perhaps, he would have been diagnosed with autism, but in the 1900's he was just different, but that never seemed to matter to Katy, who connects with him and understands him when no one else does. This was something I found truly amazing. This wasn't a "love story" in the terms of romantic love, but a love in friendship that I enjoyed. Another thing I found truly amazing was Lowry's way of creating a complete early 1900s in such a short novel without leaving anything to the wayside. Honestly, is there anything that Lois Lowry cannot do?
If you love Lois Lowry's books, but have never read The Silent Boy, you will not be disappointed when you read it.
Where to find Lois Lowry:
Amazon:
Lois Lowry Books
Her Website:
LoisLowry.com